One of a pastor's primary roles in a congregation is to offer pastoral care to members. Training students how to offer this care is part of Professor John Schuetze's role on campus.
In 1997, joined the faculty as a professor of pastoral counseling and began taking classes to better understand the pastoral counseling field. In 2003, he received his DMin from Trinity Evangelical Divinity School in pastoral care/counseling. In 2012, he received his MS in Professional Counseling from Concordia University-Wisconsin. "That allowed me to see counseling from a clinical, mental health perspective," he said. In May he received his permanent license and is now a Licensed Professional Counselor in the state of Wisconsin.
Professor Schuetze is uniquely qualified to be a bridge between pastors a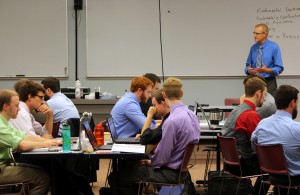 nd clinical counselors. "We need to collaborate on care so that the people we serve can have the best treatment available," he said. "I can share with students both the clinical side (so they know how professional counseling can help their member) and also the pastoral side (the important role pastors play in the process)," he said. "Pastors need to understand that they are not clinical counselors but pastoral counselors. They need to refer for the mental health treatment so that they can then focus on what they are trained to do—work on the spiritual care."
Having a licensed professional counselor on campus is also a blessing for students or their wives who have issues that need to be addressed. "If we can address them while they are at the seminary they have a much better chance of being successful in the ministry as well as a much better chance of having a positive marriage relationship," he said. Though Schuetze does offer premarital counseling, he does not counsel students. Instead he assesses the situation and refers students to therapists at Christian Family Counseling.
In addition to teaching at the seminary, he has worked for Wisconsin Lutheran Child and Family Service since 2011, focusing on marriage and family counseling and grief, loss, and trauma. "For my clinical work, I see clients two afternoons a week so it is not a large caseload. But it does help me grow in my skills and stay fresh in the classroom," he said.