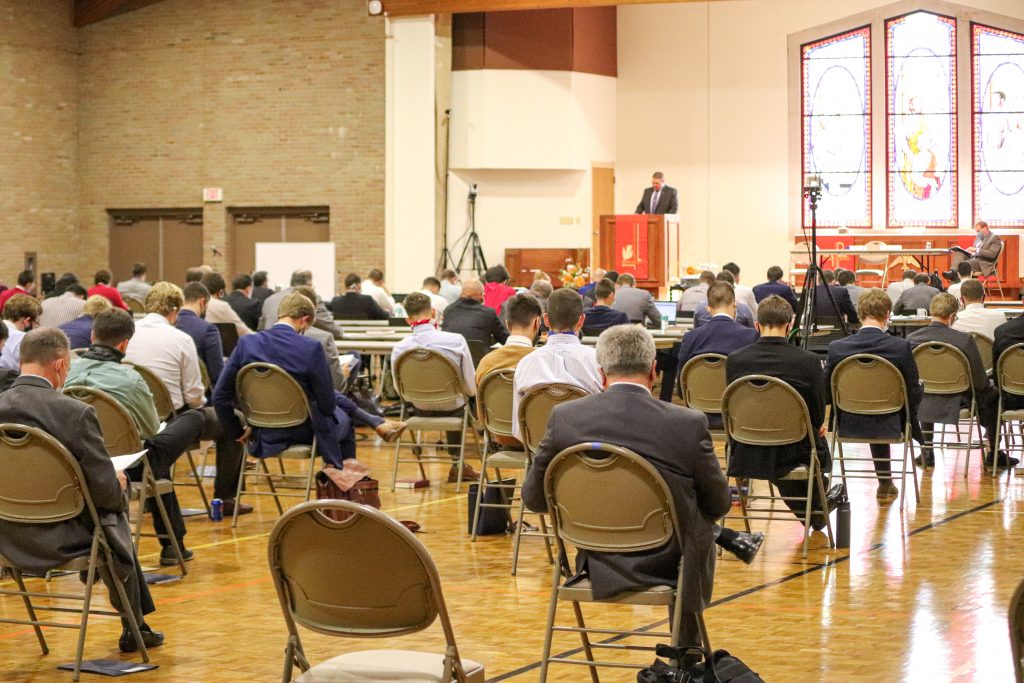 This year Wisconsin Lutheran Seminary students and faculty attended the seminary's annual fall symposium from Sept. 21 to 22. About 175 pastors and vicars from across the U.S. and Canada joined via livestream to hear three papers presented on Martin Luther's 1520 Treatises.
To commemorate the 500th anniversary of four important treatises from Martin Luther, essayists reviewed them, shedding light on what was happening in the world at the time and explaining why the truths emphasized are still essential for Christians today.
Pastor Jason Oakland, class of 2004, began the symposium with his paper, Luther's Call to Action: A Consideration of To the Christian Nobility of the German Nation. He shared, "Luther felt compelled to write to the nobility because the church was simply not interested in reforming itself. In addition, he felt the nobility had every right to step in and work for change because they too were royal priests and, due to their vocation as leaders in the Empire, might be able to assist in bringing about much-needed change."
Pastor Oakland, who serves at Martin Luther, Neenah, also added, "When Luther talked about the priesthood of all believers, he was not so much concerned with individual rights and privileges. It was not about gaining power or influence for oneself. For Luther, this priesthood meant the priest was to stand before God on behalf of others. It was the beautiful expression of the congregation as a community. One priest served another by praying for each other, proclaiming the Word to each other, and sacrificing oneself for each other. It was a constant reminder to come before God on behalf of fellow Christians and even the world."
Pastor Benjamin Schaefer, who serves at Mt. Calvary, Redding, Calif., wrote the second paper, "Breaking Free": Martin Luther's Babylonian Captivity of the Church in Context. He discussed how "Luther attacks the very heart of Roman power over Christendom, namely, the sacramental system. His thesis is that the faithful were trapped under the pope's tyranny, and God's gifts had been replaced by the traditions and laws of men. Rome was more concerned with power and prestige than they were with setting souls free. The Christian's life from cradle to grave was locked in this system of control and coercion. Luther wrote this tour de force to combat the abuses prevalent at every level of the church's work and worship—nothing was spared from Luther's scathing rebuke."
Schaefer, a 2009 seminary graduate also said, "Luther held out Christ's promises to a world trapped in bondage. He took on the hierarchy, attacked false teaching, worked mightily…. Still, despite Luther's best efforts, the spirit of Antichrist did not disappear after 1520. We do well to pause and ask, has such a spirit affected or infected us?" He also pointed to the ultimate solution for every generation, "The captivities may have changed since the 16th century, but the solution remains the same—Jesus Christ and him crucified."
For the final presentation, Prof. James C. Danell, class of 1990, spoke on two of Luther's essays in his paper The Freedom of a Christian and Treatise on Good Works. Danell, professor at Martin Luther College, shared "It's in his treatise The Freedom of a Christian that Luther presents the biblical, reformation doctrine of justification by grace through faith. His treatise On Good Works speaks to the sanctified life of the believer that springs fundamentally from his justification through faith in Jesus."
As he expanded on The Freedom of a Christian, Danell shared, "In this text Luther presents justification through faith alone as complete and total freedom from the obligation of having to do works in order to earn salvation. This freedom releases the Christian for unencumbered service to others."
When talking about Treatise on Good Works, he noted how the treatise started as a short sermon and turned into a small book, and that Luther considered it his best of them all. "Luther addressed head on and at length the false understanding of good works in his day as well as the charge that salvation by grace alone through faith alone necessarily means that good works are unimportant," he writes.
The archive of the Symposium will be available soon.