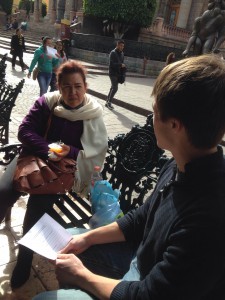 Every year a group of around ten seminary students spends two weeks in Mexico on the SPICE trip. The trip has nothing to do with spices—with the exception of the salsa verde and the tacos al pastor. SPICE stands for SPanish Immersion Cultural Experience. The trip has a dual purpose: to improve Spanish language skills and to help students get some real-life experience with Mexican culture.
We spend the first week in Puebla, focusing on our Spanish language skills at the Spanish Institute of Puebla. Each student has four hours of rigorous one-on-one classes, followed by two hours of conversation with a guide who shows us around this city of over six million people. We spend the week with host families who provide us with another opportunity to sharpen our Spanish skills and make fools of ourselves by means of the Spanish language. Of course, the whole trip is an exercise in language. All of us agree that from the moment we get off the plane in Mexico until we take off again for the seminary, we won't speak any English. It's definitely a challenge, but it's cool to see guys transition from being timid and uncomfortable to being willing to make mistakes and learn from them.
On Sunday, we attended church with our brothers and sisters in León. I'm not sure who was more encouraged, we or they. We spent our second week in Guanajuato. It's beautiful. The pictures don't lie. Aside from taking in the sights, we spent three days doing street evangelism to help out a new mission church in Guanajuato. By means of a brief survey, we had an open door for conversations about Jesus. Mexico is technically very religious. It boasts of a population that's 90 percent Catholic, but if you listen to the people, you realize that Catholicism is more cultural than anything. Many people haven't read or studied the Bible. Everything they know comes from their attendance at the Mass or from a general cultural understanding of Catholicism. Long story short: Lots of people in Mexico know the name "Jesus" but don't know what he's done for them. Many don't know his full and free forgiveness. We got to see and hear that with our own eyes and ears. Regardless of whether or not any of us serve as missionaries, the cultural and religious experience we've received has been invaluable.
It's an awesome trip. And hopefully we can keep doing it every year. But we could use your help. Pray for us as we continue our studies. Pray for the Lutheran churches in Mexico, especially the new one in Guanajuato. If you're a seminary student and you have some Spanish in you, go on the trip. You won't regret it. If you're interested in supporting the trip, call the seminary and ask how you can help. It's well worth it.
-Caleb Schmiege