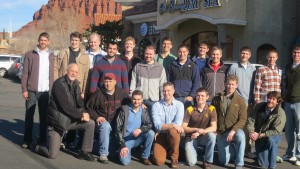 It didn't start out pretty. A flight cancellation, then another delay, an occupied airport gate in Las Vegas, a long line at the rental car counter, a two-hour drive through the Nevada and Utah desert.  The 2016 alternative urban outreach trip started out with a bang, with the crew arriving in St. George, Utah at 6 am (mountain time) on January 7. But the spirits of the 18 students led by Professor Allen Sorum weren't dampened. Yes, we were all exhausted, but we were also anxious, nervous, and excited.
St. George, Utah presents a unique challenge. And a unique opportunity. According to former seminary professor Michael Quandt, who serves as pastor at Redemption Lutheran Church in St. George, the population of St. George is nearly 70% Mormon. In a community (and state) dominated by the Mormon church, building a congregation is no easy task. But that is exactly what Pastor Quandt is doing. He sees this area as a harvest field ripe with people eager to hear the good news of the Gospel of Jesus and sought a few more boots on the ground from the seminary to head out into the community – both to help his mission work, but also to help us experience first-hand the work of a missionary.
After learning about St. George and the people who live there from Pastor Quandt, we seminarians flooded into the streets, coffee shops, malls, gyms, book stores, and ice cream parlors of St. George to try and strike up conversations with anyone willing to talk – and these people weren't hard to find. Throughout the exploration of the city, we all had fantastic opportunities to find out a little about the members of the Mormon church – what they believed, what comforted them, what scared them – but more importantly we were able to show just how the grace of God has worked in our lives and how deeply we wanted them to enjoy that same comfort and joy.
Those of us who came on this trip may never see the end results of the work we did here. Some of the people we spoke to will continue on their ways in the Mormon church. But the power of the Holy Spirit is always at work. We saw that in worship on Sunday, when one woman we talked with came in the door. And by the end of the service she was excited about what she had heard. She wanted to tell everyone she knew! That alone made all the work worthwhile. One woman. And God willing there will be more. The work Pastor Quandt is doing in St. George is amazing and each and every one of us has been blessed to be a part of that work.
It would be a shame to not mention the spectacular beauty of the land around St. George. Mountains and red rock formations surround the city. Zion National Park and Snow Canyon State park are short drives from town. The beauty of God's creation is in full display all around. But that is nothing compared to the work the Holy Spirit is doing in this community. God's Word is being heard and faith is being worked in the hearts of the people, and that is far more breathtaking than a glorious sunset behind these mountains.
–          Dan Rodewald (junior)