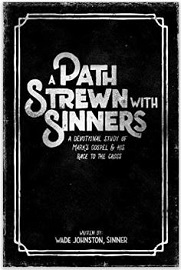 The gospel of St. Mark, by Wade Johnston's own admission, had always been a "challenge" for him; indeed, even his "foe" (vii). Mark always seemed in a hurry, leaving out so many details in his accounts. And what he did choose to include in his gospel seemed so repetitive, healing after healing, exorcism after exorcism. How is the reader supposed to read without the stories running together? How is the preacher supposed to preach without his sermons getting stale?
It was then that Johnston slowed down as he read Mark's account of Christ's "race to the cross." When he did, he recognized the beauty of Mark's gospel. His account wasn't just a repetitious series of miraculous events that culminated in Christ's cross. His account was about the people – the sinners – who were part of those events. His account was about the sinners whom Christ encountered along the path to his cross. These people were outsiders that Jesus made insiders, outcasts that Jesus made members of his company, sinners that Jesus made saints (2). Each one of these sinners had a story to tell. So, Mark used his gospel to tell their stories:
Why did Jesus tell the no-longer-demon-possessed man in the Gerasenes not to follow him, but instead to stay right where he was, in the midst of the people that had just told him to leave their community? Jesus was teaching this man about vocation (33-36). Mark recorded his story to teach us that, too.
Why did Jesus stop to converse with a bleeding woman who had just reached out to touch him, even though each second spent in that conversation meant Jairus' daughter was a second closer to death? Jesus was teaching Jairus patient trust (37-40). Mark recorded his story to teach us that, too.
Why did Jesus heap even more law upon the rich man who was wondering what he had to do to inherit eternal life? Jesus was teaching the man that salvation can't be earned, only received (69-73). Mark recorded his story to teach us that, too.
Every chapter in Johnston's devotional introduces us to another sinner Jesus encountered during his race to the cross. Every chapter tells us the sinner's story because Johnston knows that Mark's gospel isn't just about the events, it's about the people. It's about the sinners Jesus raced to his cross to save.
Johnston accomplished his purpose in this devotional. His doctrine is sound and wholesome. He correctly divides law and gospel. His expositions of Mark's words are straightforward and in line with the truths communicated in the texts. His applications are Christ-centered and fitting. His story-telling flows smoothly; his words, easy to read. And, most of all, he accurately brought to light the circumstances that each individual person, each individual sinner, whom Jesus encountered throughout Mark's gospel would have been facing. Johnston's devotional thoughts make each story (each sinner!) stand out as unique, while tying them all together to Mark's one main focus, namely, Christ's race to the cross and his encounters with the sinners he came to save along the way.
Johnston does not cover every account in Mark's gospel, but he does cover a good majority of the texts used in Year B of the lectionary. This makes his devotional particularly beneficial for the preacher, as well as anyone who would like to delve deeper into the lectionary texts he or she is hearing in worship every Sunday.
Johnston's devotional carries with it a number of practical applications, both for pastors and for lay people. For pastors, it can serve as a valuable tool for preaching and teaching. I would encourage pastors to use this book as one of their study resources anytime they are preaching or teaching on a text from Mark.
Even more useful, however, would be to simply use the book as a devotional tool for personal meditation and growth, both for pastors and lay members. Johnston's book is 28 chapters, each one focusing on a short section of Mark's gospel, and most of the chapters are no more than three or four pages in length, making each section more than manageable. Readers could easily use Johnston's devotional for a month's worth of personal devotions, taking daily meditation time to first read through the section of Mark's gospel that serves as the day's focus, then reading through the corresponding devotional thoughts.
There is another way to use this book which I think would be equally edifying. Mimicking Mark's gospel itself, Johnston's book is an easy and enjoyable read, short enough to work through in one sitting. Readers who commit to doing this will gain a greater appreciation for the flow of Mark's gospel as a whole, seeing Mark's account for what it truly is: a race (with no breaks!) to Christ's cross along a path strewn with sinners.
In summary, Johnston's devotional can best be described as this: a daily opportunity for a sinner to sit with his Savior and grow in his trust in him, as he is reminded of Christ's love. Whether it be a pastor who has studied Mark's gospel in the greatest of depth and detail countless times over the course of a forty-year ministry or a new Christian who is discovering Mark for the first time, Johnston's words will be a faith-strengthening benefit to all who read them.
Author Wade Johnston is a graduate of Martin Luther College, in New Ulm, Minnesota, and of Wisconsin Lutheran Seminary, in Mequon, Wisconsin. He has received additional master's degrees, as well as his Ph.D, from Central Michigan University and Erasmus University Rotterdam. After serving as a parish pastor for ten years at Christ Evangelical Lutheran Church, in Saginaw, Michigan, Dr. Johnston is currently serving as Assistant Professor of Theology at Wisconsin Lutheran College, in Milwaukee, Wisconsin. He has great interest, as well as great expertise, in the areas of theology and church history.