The WELS has a long and blessed history among the Apache people. We have been partners in Christian mission for over 100 years. We see some of God's blessings on this field in vibrant congregations, changed lives, supportive fellowship, and faithful called workers. God continues to bless called worker positions with Apache! In May 2015, Kirk Massey graduated and was called to be the next Apache pastor to serve Apache congregations.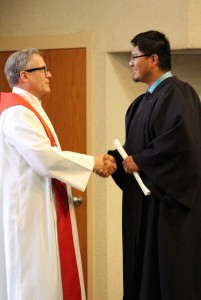 Kirk has been preparing for pastoral ministry through the Apache Christian Training School (ACTS). ACTS and leaders of the Apache field asked the Pastoral Studies Institute of Wisconsin Lutheran Seminary to complete Kirk's study program. As a result of our partnership, Kirk, upon successful completion of his program, will become a PSI graduate of Wisconsin Lutheran Seminary in May, 2015.
Gary Lupe is Kirk's fellow Apache, friend, and colleague in pastoral ministry. Gary and Kirk represent a bold new chapter in the long and blessed history of our Lutheran church in Apacheland. God bless their service!
For more articles about Kirk Massey, please visit Kirk Massey's road to becoming a pastor and PSI students graduate seminary.