How do w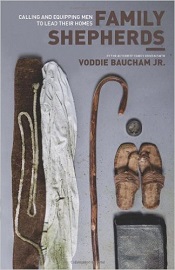 e encourage Christian fathers and husbands to be leaders at home?  How do we empower Christian fathers to see their primary calling is not to put food on the table, but to feed their families with the gospel? How do we equip Christian fathers to give their families the one thing needful?  Baucham's book, Family Shepherds, lays out some good, Christ-centered advice and instruction on "calling and equipping men to lead their homes."
Baucham divides his book into five short and easy-to-read sections. In part one, he lays out the need to help Christian husbands and fathers see that God primarily calls them to care for the spiritual needs of their families. Baucham identifies separation between parents and children as a key problem that prevents men from serving as family shepherds within the home. When husbands work late, when children constantly move from one activity to another, when present technology leads families to keep their faces down in their phones instead of talking face-to-face, these cause a separation and often a failure on the part of men to serve as family shepherds.
Separation can also happen within churches. Churches with separate worship services for adults and children can also unintentionally lead to a disconnect between parents and children. Baucham tells a story about a Christian family called the "Joneses." A Christian teenager in this family was skipping church and Sunday school, but due to never being in the same service or Bible study as her parents, it took over a month for her parents to find out she was skipping. "Unfortunately, while missing church for a month before your parents know it may be an extreme example, this Sunday morning schedule isn't at all unusual for Christian families attending church today. That's why families like the Joneses don't get relief from their isolation when they go to church – they actually have the isolation reinforced!" (42). Families need to be together at home and also in worship.
How do we help equip men in their calling as a family shepherd? Baucham explains how in the last four parts of his book. The first part is teaching family shepherds to see themselves as a priest and prophet in their home. Baucham suggests that husbands and fathers take charge in two main areas: 1) family worship, that is, leading family in short daily devotions, prayer, and hymns; 2) catechism instruction, that is, using a set of questions and answers to teach their children the basics of Christian doctrine.
In part three he calls family shepherds to see the importance of their relationship with their wives. By using Ephesians 5, he lays out the responsibilities God gives to husbands and how they are to love their wives as Christ loved the Church. A family shepherd sees his wife as important and will take time to nurture and grow that relationship. A husband who loves his wife as Christ loves the Church will not only be a blessing to his wife, but also to his children. Boys will learn what Christian fathers and husbands look like. Girls will learn what qualities to look for in a Christian man.
In part four he discusses the importance of fathers disciplining their children. He observes that fathers should not be surprised when their children sin, but that "we must bring our children back to the cross again and again. We must teach them why they sin, what the consequences are, and how Christ is their only hope" (126).
In part five Baucham encourages family shepherds to see that their role is not confined to a ten minute devotion at night, but rather that they develop and maintain a lifestyle of serving as a family shepherd. How a family shepherd serves at church, how he conducts himself at work, how he lives as a citizen in an earthly kingdom, and how he uses free time speaks volumes to their families. While family shepherds will spend time taking care of earthly needs, they will look to let the gospel shine in all areas of their lives.
Baucham does a fine job of laying out the Scriptures that support his main points, and he offers practical advice to Christian fathers and husbands who are looking to grow in this calling of family shepherd. With all the practical advice, the gospel and why it is so important can easily be missing. For the most part, however, Baucham continues to keep Christ and the gospel in front. One deficiency comes in the section on disciplining children. He neglects to talk specifically about forgiving them and announcing God's forgiveness to them after they sin. This comes as a surprise to this writer because he often repeats the importance of fathers and husbands proclaiming the gospel to their families, and he often explains what he means by the gospel. He writes, "The gospel is the glorious, Christ-centered, cross-centered, grace centered news of what God has done in Jesus Christ (the last Adam) to redeem man from the fall of his federal head (the first Adam)…" (55). Even though the gospel flows throughout this book, the omission of forgiveness being a key part of discipline was disappointing.
Pastors could benefit from this book in a number of ways. Perhaps, a yearly men's retreat could incorporate some or all of the sections in this book. A men's Bible study could read the book together and give suggestions and encouragement to those attending. Fathers of school families could be given a copy or a brochure could be adapted from the book that stresses that our schools exist not to replace the role of a father, but rather to help fathers carry out their calling as a family shepherd. We can provide resources, like devotion books, and give ongoing encouragement to use them. This book serves as a reminder that while we want Christian men to serve as leaders within our congregations, it is as important (if not more) that Christian men serve as leaders within their homes.
Perhaps the best way for pastors (especially those who are husbands and fathers) to use this book is to read it themselves, intentionally talk to Christian husbands and dads about the thoughts in the book, and then exemplify what a family shepherd looks like. This book was a good reminder for me that I have a calling from the Lord not only to serve my congregation and community with the gospel, but to make sure my family hears the gospel from me. Family shepherds should unapologetically make time for their families and make that time count. Give them undivided attention. Make family meals a priority. Help tuck kids in at night when time and busy schedules permit. Be a family shepherd who realizes he impacts his own family immensely. Not only will that serve as blessings for our own families, but, Lord willing, it will help our members see the importance of family and will encourage men to see themselves as family shepherds.
Baucham serves as the preaching pastor at Grace Family Baptist Church in Spring, Texas. He received his Doctor of Ministry degree from Southern Baptist Theological Seminary. He is a conference speaker, lecturer, and the author of numerous books, including Family Driven Faith.