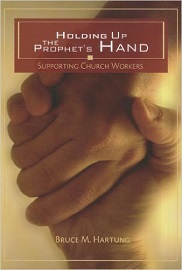 A pastor is expected to be a "carer of souls." Some have even described the role of the pastor as a "physician of souls." He is tasked with overseeing the spiritual health and welfare of the souls under his care from the youngest newborn to the oldest adult. Like a physician, he treats souls with law and gospel, with Word and sacraments—all with the ultimate goal that they join Christ, the Great Physician of body and soul, in the glories of heaven one day.
Yet, who cares for the pastor? Who cares for the pastor's wife and children? Far too often, pastors have fallen into the temptation of isolation and independence motivated by the old maxim, "Physician, heal thyself," even as Satan cranks up the stress, pressure, and temptation. Understandably, this has led to increasing rates of burnout, addiction, conflict, and resignations from ministry. For example, a recent study in our own circles revealed that between 1970 and 2010, 29% of WELS pastoral candidates resigned from ministry. One wonders how many, who have not resigned, are still wrestling with burnout or addiction or conflict or a whole host of other ministry challenges? Who cares for their physical, emotional, and spiritual health?
With this concern in mind, Dr. Bruce Hartung wrote Holding Up the Prophet's Hand as a guide to help congregations establish "Worker Support Teams" or as we know them in WELS circles—"Care Committees for Called Workers." Right from the get-go, Hartung lays out his reasons why the support for pastors and other called workers is so necessary. "[C]hurch workers living out this vocation are at much more risk than many other folks. The risk comes from several sources.
"[P]eople-oriented professions carry specific, inherent vocational risks…Professionals called to help others during stressful circumstances find these circumstances upping the stress ante in their own lives too… (8)
"[S]tress often increases when one's vocation asks the worker to connect challenging human experiences with the Gospel of Jesus Christ… (8)
"[C]hurch workers most often have personal relationships with those they serve…They minister to those they care about on a personal as well as a professional level, often during times of crises… (9)
"[T]hey are called by God to apply the Gospel to the most daunting of human experiences. Is it any wonder that church workers sometimes succumb to dramatic risks of body, spirit, and self?" (9)
Hartung divides the book into four main sections, which makes this an easy-to-use resource. He concludes each chapter with a "Speaking Personally" section that this reviewer appreciated alongside a wealth of real-life examples and applications throughout the entire book.
The first section focuses on "Why Worker Health Matters" with special emphasis on the four most common factors that can potentially harm called workers—Satan's attacks and spiritual warfare, stressors and stress, burnout, and secondary traumatic stress. This section is particularly eye-opening as Hartung lays out research findings alongside real-life examples to demonstrate how silently stressors and secondary traumatic stress can impact the life and ministry of a pastor.
The same can be said of his comment regarding the likeliest candidates for burnout in ministry. "Church workers are more likely candidates for burnout if they bring to the task a passion for sharing the Gospel of Jesus Christ…fulfilling the calling the Holy Spirit has given them…helping deepen people's relationship with the triune God…[and] walking closely with the people they love, sharing both burdens and joys" (36). That definition describes nearly every called worker in our church body. This section serves as a loud and clear warning to every pastor who cares for his flock.
Thankfully, Hartung follows up the section of warning with a gospel section—"The Resources Christ Gives." This section emphasizes the importance of the body of Christ living together as a community that provides "authentic encounter and appreciation" to their called workers. When such a culture of support and encouragement is established within a congregation, it often proves to be a great blessing to the pastor and his flock. When a pastor knows that he has trusted leaders and members who will give him constructive criticism and honest encouragement in a healthy, authentic relationship, it enables the pastor to grow spiritually and emotionally, which then leads to blessing for the congregation. In such a congregational culture, there is genuine concern for the well-being of the pastor and his family. For this reason, Hartung encourages each congregation to create a "Worker Support Team." He then uses the third section to explain how such a team can properly administer such necessary care for the called worker's emotional, spiritual, and physical health. Resources similar to what he describes are available via WELS Special Ministries or the Grow in Grace website.
The final section takes a look at the subject "When Things Go South." It addresses common situations where serious problems arise for a pastor, such as fractured relationships, personality issues, mental health issues, and addictions. Hartung concludes the book with hopes, prayers, and further resources for study and use.
Dr. Hartung has provided the Lutheran church with a valuable resource in Holding Up the Prophet's Hand. This reviewer would be hard-pressed to find a similar resource that is as comprehensive, personal, and gospel-centered as this book. While this resource is primarily directed towards congregational leaders with its emphasis on providing a local support network for called workers, this book would still be a valuable addition to a pastor's library, especially since it addresses a subject that is often ignored—the care and support of called workers. In particular, those who serve in an oversight capacity (such as a circuit pastor or praesidium member) or those who serve as pastoral mentors will find this book to be of great value. Hartung addresses subjects and issues that are typically behind many of the challenges that a pastor faces throughout his ministry. This book can provide valuable spiritual and practical guidance for the care of our synod's called workers, especially our pastors and their families.
1. Hartung speaks glowlingly about the efforts and resources of the WELS "Care Committee for Church Workers" (sic) and their resources. Nonetheless there is much room for growth in their usage on the congregational level.
Bruce Hartung (Ph.D., Northwestern University) is Associate Professor of Practical Theology (Emeritus) at Concordia Seminary, St. Louis. He is a diplomate of the American Association of Pastoral Counselors, and has served as director of the Lutheran Church-Missouri Synod's Commission on Ministerial Growth and Support and Health Ministries. He has served as a counselor, executive director of pastoral counseling centers, director of counseling, and parish pastor. He is also the author of Building Up the Body of Christ: Supporting Community Life in the Church.