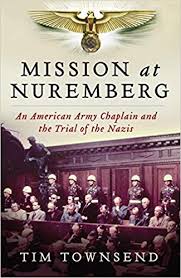 Tim Townsend, formerly the religion reporter at the St. Louis Post-Dispatch, holds master's degrees from the Columbia University Graduate School of Journalism and Yale Divinity School. He has written for the Wall Street Journal, the New York Times, and Rolling Stone, among other publications. In 2005, 2011, and 2013, he was named Religion Reporter of the Year by the Religion Newswriters Association, the highest honor on the "God beat" at American newspapers. He recently joined the Pew Research Center's Religion and Public Life Project as a senior writer and editor in Washington, D.C.
Mission at Nuremberg: An American Army Chaplain and the Trial of the Nazis chronicles the ministry of Henry Gerecke, a Missouri Synod Lutheran pastor, among Nazi leaders standing trial in Nuremberg, Germany. Through the use of flashbacks, Townsend provides Gerecke's biography, the background of the United States Chaplaincy program, and a synopsis of key Nazi leaders on trial. This approach allows the reader to grasp the moral gravity of each criminal act committed and to better understand Gerecke's spiritual counsel.
Guilt and grace intersect with Townsend's leading question: "How, having risked his [Gerecke] own life (and those of his sons) to eliminate the Nazi threat… How could he preach the gospel of mercy, knowing full well the devastating nature of the atrocities they had committed?" (back cover).
In chapters 1 and 2, Townsend recounts the spiritual formation of Henry Gerecke. Gerecke was born, baptized, and raised at Zion Evangelical Lutheran Church [LCMS], Gordonville, Missouri. Although raised on the family farm, Gerecke began studies for the pastoral ministry after watching evangelist Billy Sunday (24).
Gerecke enrolled at Concordia Seminary, St. Louis, in 1918, but was later forced to withdraw due to his marriage during his schooling years. A friendship with Rev. Richard Kretzschmar allowed Gerecke to complete his seminary studies in 1925.
After his first call (Christ Lutheran, St. Louis, Missouri), Gerecke was installed as pastor at an inner-city mission. There he served the needs of the homeless, poor, and despondent. He arranged low-paying jobs, drummed up financial support for the mission, and provided used goods at thrifty prices. This care ministry sharpened Gerecke's abilities to look past social tiers and at souls for whom Christ died (41).
Chapters 3 and 4 chronicle the development of the United States Chaplain division and Gerecke's participation in Allied hospitals.
After Germany's surrender, Gerecke was transferred to an Allied hospital outside Dachau, Germany. It is here he explored the execution mounds, the barbed wire, the SS barracks, and mass murder that took place within the concentration camp. A sign there read: "This area is being retained as a shrine to the 238,000 individuals who were cremated here. Please do not destroy" (94), leading Gerecke to wonder, "How could they [the Nazis] do something like this?" (95).
Chapters 5 and 6 chart the rise of Nuremberg as a Nazi capital, its destruction during the war, and its reconstruction for the 'Trial of the Century.' Townsend lists the procedures set for an international court of law to try war criminals. He also mentions that ministering to the spiritual needs of the enemy was a new action (136).
Chapter 7 opens with the Nuremberg Trials. Townsend tells of the upbringing of several Nazi leaders, their rise into and participation in the party itself, and their criminal activities. These prisoners include Admiral Karl Donitz, Luftwaffe Commander Herman Goering, Nazi Ambassador Joachim von Ribbentrop, labor chief Fritz Sauckel, Nazi architect Albert Speer, Propaganda Minister Hans Fritzsche, and Hitler Youth Leader Baldur von Schirach. Most received some form of spiritual counsel. Six attended Mass, fifteen attended Lutheran service, and several abstained from worship (159).
Chapter 8 introduces Gerecke's friend and counterpart, Father Sixtus O'Connor. Townsend elaborates on the war crimes of Rudolf Hoess, the longest serving commander of Auschwitz Concentration Camp, and Ernst Kaltenbrunner, the leader of the Schutzstaffel (SS). Both men carried Catholic backgrounds.
Chapters 9 and 10 document the sentence handed each Nazi war criminal. Townsend notes how Gerecke and O'Connor visited the condemned each day leading to their execution.
Of some interest are Gerecke's visits with Herman Goering. Goering long denied guilt within the Nazi organization. Even after his sentencing, he maintained his innocence. Sensing death imminent, he welcomed Gerecke's visits. Goering demanded to receive Holy Communion, but Gerecke refused because Goering rejected Christian teachings (260).
Chapter 11 concludes with the executions of the convicted Nazi criminals, and O'Connor and Gerecke's return to civilian life. Gerecke returned to the parish ministry, but still ministered at a neighboring state prison. At the time of his unexpected death, roughly 800 inmates viewed and attended Gerecke's funeral service.
Townsend's own religious beliefs show through in Mission at Nuremberg: An American Army Chaplain and the Trial of the Nazis. This affects his leading question: "How can you minister to the most wretched?"
First, he implies a belief in double-predestination: "Evangelicals [here, including Lutherans] take this directive, often called the Great Commission, very seriously, seeing it as responsibility to save souls that have been damned to an eternity separated from God" (39). Such a statement really undermines the rest of his book. If some Nazis were "damned to an eternity separated from God," then what is the benefit of mentioning Gerecke's ministry among them?
Second, Townsend fails to apply the Biblical teaching of church fellowship to the chaplaincy program. "As a branch of the armed forces, it is a government agency guided absolutely by the Constitution and its amendments, particularly the first one. As a extension of the Christian church for much of its history, it is necessarily an evangelical institution, governed by the instructions of Christ to his apostles at the end of the Gospel of Matthew— to 'make disciples of all nations'" (60). WELS Lutherans understand that participation in the United States chaplaincy program requires the breaching of church fellowship. The government gives orders to a chaplain. This forces pastors to minster to non-Lutherans and non-Christians. But Scripture teaches that we must be "agreed in all things" (1 Corinthians 1:10; 6:14-17; Romans 16:17).
It remains unclear whether Gerecke crossed the lines of fellowship when enrolled in United States "Chaplain School" (58), "making sure a layman led Jewish service" (63), and "[beginning] a Seventh-Day Adventist service on Saturday morning" (92).
Finally, Townsend does accurately relay the Scriptural teaching (and Lutheran approach of) the Lord's Supper, but considers it as just one valid interpretation among others (261).
This reviewer has spent time studying the rise and fall of Nazi Germany. He often wonders: "How can these unmentionable crimes come from one man?" Scripture makes clear that the sinful nature is capable of inflicting tremendous evil (Mark 7:20-23). The temptation is for the pastor to consider some individuals so unworthy of God's love that he withholds not only God's forgiveness, but also God's law. Still, each sinful heart remains one for which Christ died (2 Corinthians 5:15).
Gerecke recognized this. A pastor may imitate Gerecke in looking past social standing and ministering to the poor and needy, the ashamed and the guilty. Our present-day world tends to believe all will enter heaven, except the morally bankrupt—like Hitler, Stalin, and Mao. A pastor may imitate Gerecke's fierce desire to share the Word of Life with God's lost sheep, even though he may face negative backlash. (Gerecke was severely criticized for even shaking hands with Nazi defendants [140]). Gerecke withheld Holy Communion from the impenitent—even in the face of public pressure (267). A pastor may glean confidence in standing on the Word in spite of the pressure to act otherwise.
Mission at Nuremberg: An American Army Chaplain and the Trial of the Nazis provides a real-life case study of prison ministry. Called worker and layman alike can wrestle with the natural moral dilemma of offering unconditional forgiveness to repentant men who inflicted world-changing harm. Yet, by the book's end, many will see how God's timeless Word can conquer the evil in the hearts of men who wanted to conquer the world.