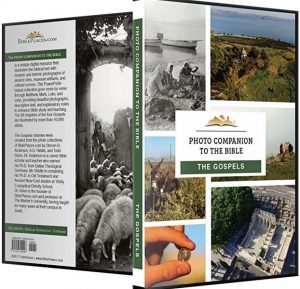 Dr. Steven Anderson earned his Ph.D. from Dallas Theological Seminary. Mr. A.D. Riddle is completing his Ph.D. in Old Testament and Ancient Near East studies at Trinity Evangelical Divinity School (Chicago, IL). Dr. Christian Locatell currently holds the Golda Meir Postdoctoral Fellowship in the Linguistics and Hebrew Language Departments at The Hebrew University of Jerusalem. Dr. Kris Udd is a pastor and has a Ph.D. in Old Testament Archaeology from Andrews University (Berrien Springs, MI). Dr. Todd Bolen is Professor of Biblical Studies at The Master's University (Santa Clarita, CA), having taught for many years at their campus in Israel. He has graduate degrees from Jerusalem University College and The Master's Seminary and a Ph.D. from Dallas Theological Seminary.
This Photo Companion to the Bible is not a book. This is a PowerPoint-based resource with images of places, people, and things from the Bible organized by chapters and verses. Each chapter in the Gospels has between 40-230 images. Each chapter in Acts has between 65-250 images. Adding them all up, the 89 chapters of the Gospels have over 10,000 images; the 28 chapters of Acts – over 4,000 images.
So how is this different from just doing a quick Google search for similar images? The publisher of this resource, BiblePlaces.com, gives a few differences on their website:
Well-organized comprehensive collection
Accurately identified and described images
High-resolution images (minimum 1600×1200 pixels)
Descriptive labels to many of the images
Generous copyright permissions
But there are other differences. Here is what this reviewer found advantageous in this resource compared to a quick Google search.
Each Powerpoint covers one chapter.
Each slide in the PowerPoint follows verse by verse (some verses have multiple slides dedicated to them).
Each slide has the current Bible passage and the pertinent words from the passage.
Then there is the image itself and a little phrase explaining the image.
In addition to all of that, each slide also has longer descriptions in the PowerPoint "Notes" section. These notes explain each image and its connection the current Bible passage in greater detail.
Below are a few examples of a typical PowerPoint slide.
As the images show and the name implies, the Photo Companion to the Bible is just that: pictures of places, people, and things mentioned in the Bible, but it also more than just pictures. The notes and descriptions for the images incorporate Christian tradition, archaeology, and some of the latest scholarship. While this reviewer was not able to peruse all the 14,000+ images, this resource does have a balanced presentation of the Bible through these images. (For example, the notes present both arguments for Gordon's Calvary and the Church of the Holy Sepulchre as the spot of Jesus' crucifixion. After stating the facts, the reader is left to make an informed decision.)
Besides the Gospels and Acts, there are also PowerPoints created for:
Joshua
Judges
Ruth
Esther
Psalm 23
Daniel
Romans
This reviewer commends the authors for their efforts and absolutely appreciates this resource for its photo quality and professionalism. This reviewer would also recommend this for anyone who would like to get a visual to what they are reading in their Bible. This resource is like a visual study Bible. With the images and information on each slide, this would complement a Bible reading plan very well. In the PowerPoint layout, these images could also be used in a Bible class with very minimal alterations. The images can also be printed as well.
As of this review, the cost of the Gospels as a set are $299; Acts is $119. That includes lifetime updates, immediate downloads, and a DVD with the PowerPoints. To download free examples of this resource, click here.
This series from BiblePlaces.com states that it is "an image-rich resource for Bible students, teachers, and researchers. Just as a librarian stocks the shelves with as many relevant materials as possible, so we have tried to provide a broad selection of images. Our goal is that you will find in this 'library' whatever it is you are looking for." One will indeed find another resource for one's personal library: this digital "library" resource, this visual study Bible.