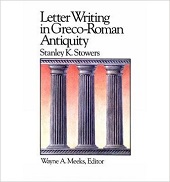 When the Holy Spirit inspired the New Testament, he made frequent use of letters. Paul, Peter John, and other disciples of Christ wrote letters under the Spirit's guidance. In his book, Letter Writing in Greco-Roman Antiquity, Stanley Stowers demonstrates that some knowledge of letter writing in the Greco-Roman world can "provide a fascinating window into the world of those Christians" (15).
Ancient letters were often thought to be a replacement for the person's physical presence. Seneca wrote, "I never receive a letter from you without being in your presence forthwith" (62). This was important for Paul because he was often physically absent from his churches due to mission work elsewhere. Yet, he was still able to exercise a pastoral presence through his letters. This might help explain passages such as 1 Corinthians 5:3, "For my part, even though I am not physically present, I am with you in spirit."
We possess a broad range of letters from the ancient world. Some are common, everyday letters. Stowers refers to these letters as the non-literary papyri. They were discovered by archeologists at sites such as Oxyrhynchus in Egypt. Adolf Deissmann used these letters to show that the language of the New Testament was "common (i.e. Koine) Greek" (18). Other letters from the ancient world were written by highly educated rhetoricians. Even though Paul used the Koine Greek of the common people, his letters contain many rhetorical devices and strategies. Therefore, it is also beneficial to study the letters of the rhetoricians.
Stowers sums up the basic form of a Greek or Roman letter:
Most extant Greek and Latin letters begin with a prescript or salutation that contains the name of the sender, the name of the addressee and a greeting. The formula is: 'Demetrius to Publius, greetings.' … Often the greeting was followed by a prayer for the recipient, sometimes by a wish for the recipient's health, and occasionally by a statement of thanksgiving to a god or gods. (20; cf. also 73, 87, 88)
The reader of the New Testament will immediately recognize this pattern from the letters of Paul: "Paul [sender] … To the saints in Colossae [addressee] … Grace and peace to you from God our Father. [greeting] We always thank God, the Father of our Lord Jesus Christ when we pray for you [introductory thanksgiving]" (Colossians 1:1-3).
"Since Paul's word 'grace,' charis, is related to the ordinary word 'greeting,' chairein, his salutation reads like a kind of Christian play on the standard formula" (21). Just as teachers of homiletics today talk about the proper structure of a sermon, Greco-Roman rhetoricians talked about the proper structure of a speech. They also discussed the proper structure of a letter. Two ancient textbooks on letter writing have survived from the ancient world, one by Demetrius and the other by Libanius. Both of these textbooks divide letters into different types. It might seem artificial to talk about types of letters. On the other hand, even in our society we have different types of letters (or emails!). Types of letters for us might be a letter of congratulations or a letter of condolence or a letter that lodges a complaint. The types of letters in the ancient world include the following: letters of friendship, family letters, letters of praise and blame, exhortation and advice, admonition, rebuke, reproach, consolation and mediation. Stowers acknowledges that these types are often mixed. One commentary that makes extensive use of Greco-Roman letter types is Gordon Fee's commentary on Philippians in the New International Commentary on the New Testament (NICNT) series.
To understand letters of praise and blame, one needs to understand that Greco-Roman culture was an honor/shame culture. Stowers writes,
The giving of praise and blame was essential to the working of [social] institutions in antiquity. To praise meant to bestow honor; to blame meant to take away honor and cause shame. It was through honor that a person's rightful place in society was defined. Honor provided a person with a status in society. It was like a social rating that entitled the person to act and be treated in certain ways. People knew how to locate themselves and behave toward superiors, inferiors and equals because of the system of honor. (27)
Thus letters of praise gave honor to the addressee. Letters of blame brought shame to the addressee. There is a whole branch of New Testament studies which examines matters of honor and shame in Paul. I personally need to study more about it, but it does seem like matters of honor and shame are in the background of such passages as Romans 1:16, "I am not ashamed of the gospel."
Sometimes Paul praises the Corinthians: "I praise you for remembering me in everything and for holding to the traditions just as I passed them on to you" (1 Corinthians 11:2). At other times Paul shames them: "Come back to your senses as you ought, and stop sinning; for there are some who are ignorant of God – I say this to your shame" (1 Corinthians 15:34). 1 Corinthians 4:10 is an interesting example. There Paul uses ironic praise: "We are fools for Christ, but you are so wise in Christ! We are weak, but you are strong! You are honored, we are dishonored!" Yet Paul adds, "I am writing this not to shame you but to warn you as my dear children" (1 Corinthians 4:14).
Even though Paul might make use of the rhetoric of honor and shame, it is important to remember that Paul also critiqued many parts of the honor/shame culture. Paradoxically, the shameful cross of Christ was the highest glory (1 Corinthians 1-2). Christ gave up the glory of heaven to take the lowly form of a servant (Philippians 2). Paul tells the Philippians to have that same servant-like attitude. This would challenge their notions of honor and shame.
According to the rhetoricians, "the most gentle type of blame was admonition (nouthetein). … For admonition (nouthetein) is the instilling of sense (nous) in the person who is being admonished" (125). There are many examples of admonition in the New Testament.
A harsher form of blame was "a letter of rebuke" (133). Stowers says, "Paul uses rebuke in his letter to the Galatians (e.g., 1:6-10; 3:1-5; 4:8-10). His expression 'I am amazed' (1:6) and his denunciation of them as 'fools' (3:1, 3) are characteristic of rebuke" (134). I'm not sure that "denunciation" is the right word for Paul's use of "fools" in Galatians 3:1,3, but Stowers is right that this is harsh language meant to lead the Galatians to see the seriousness of their situation. Though Paul does use rebuke language, we also see that he was a tactful and loving pastor who only used a harsh tone when necessary. He said to the Galatians, "How I wish that I could be with you now and change my tone!" (Galatians 4:20; cf. also 2 Corinthians 7:8-10).
Letters of consolation are frequent among the letters that survive from the ancient world. One letter of consolation is often quoted in commentaries on 1 Thessalonians, for example. Irene's letter of consolation over the death of a family member was found at Oxyrhynchus, Egypt. It dates to the second century A.D. It reads as follows, "Irene to Taonnophiris and Philo, take heart! I grieved and wept as much over the departed as for Didymus. … But, for all that, there is nothing that can be done in the face of such things. Therefore comfort one another. Farewell" (146).
Many commentators have rightly noted that this is rather hollow compared to the genuine hope which Paul offers the Thessalonians: "For we believe that Jesus died and rose again, and so we believe that God will bring with Jesus those who have fallen asleep in him. … And so we will be with the Lord forever. Therefore encourage one another with these words" (1 Thessalonians 4:14, 17-18).
Stowers gives many examples of all types of ancient letters, often printing the entire letter in full. I found Stowers comments on letters of introduction especially interesting. He states, "Letters of introduction (systatikai) are also called letters of recommendation. … The main purpose is sometimes to provide a person with credentials for some activity rather than merely to introduce the person" (153).
This caught my attention because in 2 Corinthians 3, Paul records that he doesn't need a letter of recommendation because the Corinthians themselves are his letter of recommendation. "Or do we need, like some people, letters of recommendation to you or from you? You yourselves are our letter, written on our hearts, known and read by everyone. You show that you are a letter from Christ, the result of our ministry, written not with ink but with the Spirit of the living God" (2 Corinthians 3:1-3).
Paul was often physically removed from his churches because of his missionary travels. Therefore, he had to communicate with them pastorally by way of letter. This book helps us to see the different rhetorical tools, which were available to Paul as he wrote his letters. Under the guidance of the Holy Spirit, Paul used these tools masterfully. This book is a tool I'd recommend for understanding the literary genre of New Testament letters. The thoughtful Lutheran pastor could glean much from it, as he ponders and peers into the ancient world for the benefit of his preaching, teaching, and counseling. May the Spirit bless your growth!
Stanley Stowers (PhD, Yale University) is professor of Religious Studies at Brown University. His other books include A Rereading of Romans: Justice, Jews and Gentiles and The Diatribe and Paul's Letter to the Romans.