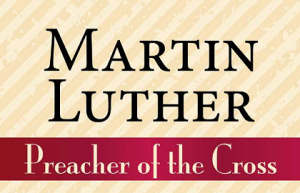 Martin Luther served the church in many capacities. He was called friar, priest, professor, doctor, and reformer. Yet of all the words that one could use to describe him, perhaps none would summarize the work that he accomplished better than pastor. Even though he was never called to be a parish pastor, he showed exactly what it means to care for souls. Whether he was writing letters, preaching sermons, counseling couples, visiting sick people, or overseeing visitations, his work revealed a beating pastor's heart.
Not only did the Lord bless Luther so that he learned the gospel in his studies. The Lord blessed Luther with the ability to apply that gospel to the lives of many with whom he interacted. The Lord blesses today's pastors and professors with the opportunity to study his pastoral theology so that we can become better writers, preachers, counselors, visitors, and overseers. The Lord blesses the people we serve if we follow Luther's example in the care of souls.
In Martin Luther: Preacher of the Cross John Pless has organized selections of Luther's correspondence into convenient topics to aid our study of Luther's pastoral theology. Pless displays Luther's mastery, adds his own commentary, and includes comments from other Luther scholars. "[T]his volume examines representative aspects of Luther's pastoral care manifested in his dealings with specific situations and people. … [T]his book examines how Luther put his evangelical theology to work in actual cases of pastoral care" (14). The author helps us to learn directly from Luther what it means to care for souls.
In the introduction Pless lays the foundation of the study by exploring some of the insights that made Luther such a great pastoral theologian. He highlights the distinction between law and gospel, the importance of oratio, medatatio, and tentatio in the making of a theologian, the theology of the cross, and the word and sacraments as the means of pastoral care.
The first chapter displays how Luther used his visitations to diagnose problems in early Lutheran congregations and how he addressed those problems with the Small and Large Catechisms.
Chapters 2 and 3 are devoted to pastoral care in times of anxiety, distress, doubt and despair. To a prince suffering from depression at Christmas, Luther wrote of the Savior's lowly birth and how it is proof that Jesus was with him everywhere. Luther reminded a young student suffering from depression that the Son of God suffered for him. Luther reminded his colleague who was experiencing anxiety that he could be confident in God's promises. He encouraged the pastor who was despairing from persecution to rejoice in Christ's triumph. In his letters, Luther pointed his readers to the merits of Christ alone. He taught them to find comfort in their predestination to eternal life. He taught his friends to pray.
Chapters 4 and 5 are directed toward care in light of vocation. Luther teaches his readers to see their vocations as the masks of God, which are lived out in the home, society, and church. In light of this, he comforts those whose vocations have placed them in danger from plague. He counsels soldiers who fight for a living. Luther addresses marriage as a vocation and a gift of God. In his life, he provided a great deal of help for troubled couples.
Luther's care for the poor and imprisoned is on display in chapter 6. His encouragement to the sick and dying is clear in chapter 7. He taught his readers to see that Jesus' death makes our death bearable. Because of Jesus we look forward to heaven and face death with confidence.
Chapter 8 is about pastoral care of the grieving. Luther pointed a queen, whose husband had died, to the grace of Jesus for comfort. He encouraged his friends not to let their grief overwhelm their faith, but rather to remember the Lord's blessings. He assured a pastor that his dead son was better off in heaven than on earth. Luther even provided comfort in the case of suicide, blaming the action on the devil rather than on the victim.
The book also contains an appendix, which shows how Luther drew consolation out of the Sacrament of Baptism. For Luther, Baptism was among the greatest comforts of all.
Reading Luther is, of course, always worthwhile. Pastoral theology is an area where we can learn so much from him. The average pastor may have a hard time reading and studying all of Luther's letters of pastoral care on his own. Therefore this book is a helpful way to cover some of the highlights and to grow from his example.
John T. Pless is Assistant Professor of Pastoral Ministry and Missions at Concordia Theological Seminary in Fort Wayne, Indiana. He has taught courses on Luther's letters and "Luther the Pastoral Theologian." He is also the author of Handling the Word of Truth: Law and Gospel in the Church Today.
Martin Luther: Preacher of the Cross, by John T. Pless. St. Louis: Concordia Publishing House, 2013. 140 pages.