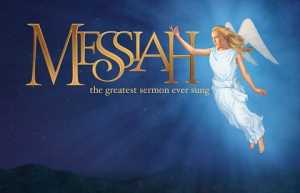 Among the various traditions this time of year, George Friederic Handel's Messiah is often one of them. Perhaps it is the tradition of attending a performance of Messiah on a December evening before Christmas. Perhaps it is participating in a sing-along of a number of Messiah's choruses concluding with a full-throated version of the "Hallelujah Chorus". Perhaps it is simply having a favorite and familiar recording of Messiah playing in the background while the home is decorated or while the family gathers together for Christmas—although most of the music is actually more appropriate for the spring seasons of Lent and Easter.
Even apart from these practices that have become traditions among so many, there is no doubt that Handel's Messiah is generally considered to be one of the most famous and popular choral works in human history. At the same time, it is also one of the greatest sacred pieces ever written, but why is that? Why would so many fall in love with a choral work that is essentially portions of Scripture set to music?
Yes, the music itself and Handel's skill in making Charles Jennens' libretto sing is nothing short of breathtaking, but perhaps what has made this choral work such a treasure for believers of every generation back to the Baroque era is what Pr. Pittenger describes from his own personal experience in the preface of Messiah: The Greatest Sermon Ever Sung.
I fell in love with Messiah by accident. Going about my college studies, I wanted background music that would be so boring as to not distract me while I worked. I purchased a Messiah CD and tried, unsuccessfully, to focus on my homework. Baptized into the Christian faith and raised in the Church, I was hearing the story of my salvation being sung. Thus began a love affair that has gone on for twenty-some years now…
Much has happened, both without and within, since those idyllic days in my dorm room… Invariably, almost instinctively, I have returned to Messiah. The biblical texts paired with Handel's music have strengthened me when weak and comforted me when afraid. That story of certain hope that unfolds in Messiah has dried many tears, and continues to make me long for the place reserved for me, where in perfect pitch I shall join with angels and archangels and with all the company in heaven, singing: "Blessing and honour, glory and power be unto him that sitteth upon the throne, and unto the Lamb forever and ever."
Many who have fallen in love with Messiah over the years would offer a resounding "Amen!" to Pr. Pittenger's description. When this reviewer received both Messiah books as gifts, it was a new opportunity to revisit an old friend. Both books—although written for different purposes—proved to be exceptional additions to this reviewer's library and worthwhile tools for personal and group Bible study of the texts and music of Messiah.
Pittenger's Messiah provides some basic introductory thoughts on Handel's Messiah, an explanation of the format of the book, and suggestions for conducting a Bible study on the basis of the book, whether for personal or group study—the primary purpose for the book itself. He also provides Bible study outlines for seven sessions or four sessions at the end of the book.
Stapert's Handel's Messiah has a much more substantial introductory and historical overview of oratorio before and after Handel, Handel's life, and the oratorio itself. Stapert writes in a clear and interesting style that keeps the reader engaged providing fascinating details of a story that "begins with a devotional movement in sixteenth-century Catholic Italy and leads to Messiah, an oratorio written by Handel, an eighteenth-century German Lutheran composer who would have preferred to continue writing Italian operas in Protestant England, a country that had no oratorio tradition until he reluctantly 'invented' it." (xiii) Stapert also offers two essays on the purpose of Handel's Messiah—"To Teach and Delight" and "Messiah Versus Deism". Both are worth the reader's time, if nothing else to provide context to Messiah.
The real importance of both books, however, is not in their historical and introductory material, but in their "play-by-play" commentary on each part and scene in Messiah. This reviewer chose to deliberately read through each scene as discussed in each book and then listen through that particular scene from a complete recording of Handel's Messiah. Pr. Pittenger recommends the recording from the Choir of Christ Church Cathedral, Oxford; the Academy of Ancient Music, Christopher Hogwood directing; Decca Recording Company, 1991. This reviewer used the recording from the Cambridge Singers and the Royal Philharmonic Orchestra, John Rutter directing; Hendrickson Publishers, 2010. Whichever recording you use, please be aware that Messiah recordings are often abridged due to length and therefore missing portions that are covered in the books.
Pittenger's pastoral, devotional approach to each segment, while also providing the text being sung, is perfect for a measured, devotional study through Handel's Messiah. Yet as well written as Pittenger's text may be, the illustrative work of Jonathan Mayer adds an entirely new dimension to the study of the Biblical texts of Handel's Messiah. Mayer beautifully keeps the focus on Christ at the center of the entire book, while never once showing the face of Jesus, much like Handel who never has Jesus speak. Mayer explains his purpose in the Preface, "My hope is that this book and its illustrations serve to give its readers not only a greater appreciation for the art of Handel's masterpiece, but to grant them a deeper understanding of Christ and his tremendous love for us." Mayer's illustrations offer a breathtaking artistic gift for God's people.
Stapert's commentarial approach is scholarly, yet approachable. His regular connections between the nuances of the musical style and the Biblical text and the historical background in a particular scene were much appreciated by this reviewer, who found himself making regular notations for future studies of Messiah or even the Biblical text. Stapert is generally quite conservative in his approach to Holy Scripture and what is being expressed or illustrated in each particular scene. Much can be gleaned from Stapert's clear, yet scholarly commentary on this musical treasure.
From a pastoral perspective, both books are worthwhile resources for your own personal use or for use within your congregation. They complement each surprisingly well and would provide ample material for an in-depth study of Handel's Messiah. However, this reviewer would strongly recommend that a copy of Messiah: The Greatest Sermon Ever Sung not only be on pastors' shelves, but in the homes of every one of our families. The illustrations alone make this book worthwhile as children see their salvation story depicted, but Pr. Pittenger's devotional text and Handel's glorious music will make Messiah a beloved treasure for generations of God's people to come.
Rev. Anthony Pittenger has been serving as pastor of Bethany Ev. Lutheran Church in Port Orchard, WA since his graduation from Bethany Lutheran Theological Seminary in 1996. Since his college years, he has been an avid lover and student of Handel's Messiah.
Jonathan Mayer is a liturgical artist and illustrator with a B.A. in studio art from Bethany Lutheran College and an M.F.A. in illustration from Savannah College of Art and Design. He taught art at Concordia University Nebraska for one year and currently resides in Seward, NE with his wife and two children, where he provides artistic services for Christian churches through Scapegoat Studio (www.scapegoatstudio.com).
Calvin Stapert is professor emeritus of music at Calvin College, Grand Rapids, Michigan. Besides Handel's Messiah: Comfort for God's People, his other books include My Only Comfort: Death, Deliverance, and Discipleship in the Music of Bach; A New Song for an Old World: Musical Thought in the Early Church; and the Lion Hudson "History Makers" illustrated biography of J.S. Bach.
Messiah: The Greatest Sermon Ever Sung, by Tony Pittenger. Illustrated by Jonathan Mayer. Minneapolis: BRIO, 2012. 40 pages.
Handel's Messiah: Comfort for God's People, by Calvin Stapert. Grand Rapids, MI: William B. Eerdmans Publishing Company, 2010. 178 pages.