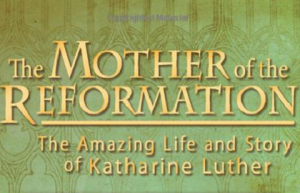 Almost every Lutheran has heard what a remarkable person Katharine Luther was. Yet how much do we actually know about her life? Not as much as we would like, says her biographer Ernst Kroker. "With the nature of what has been passed down to us, it is not really possible to write a life history of Katie. We will have to content ourselves with a depiction of her life and character" (ix). Despite the limited sources, Kroker writes with sufficient detail that his readers will feel like they are familiar with Frau Luther's story and personality. Kroker portrays her as brave, industrious, proud, efficient, frugal, demanding, self-sacrificing, hospitable, and faithful. She was not only a tremendous influence on her husband, but also on all Lutherans afterward. For example, Dr. Luther himself says that Katie was the one who convinced him to finally respond to Erasmus. Even if that one event had been her only impact, we would all still be in her debt for the writing of The Bondage of the Will. She truly did much more for him, though, and by providing for him she did much more for us who are heirs of the reformer's work.
Two examples of the lack of material recorded about Katie's life confront the reader in chapter 1. First, there are several possibilities for Katie's birthplace. Kroker makes the case that she was born in Lippendorf. Second, very little detail about Katie's experience in the convent has been passed down. Kroker fills in with general details about what convents were like at that time, and thus describes what Katie's life there must have been like.
In order to tell the story of how Katie came to Wittenberg, Kroker tells the story of the Reformation itself: how Martin Luther came to Wittenberg, how the Reformation began, and how the pure gospel came to the convent. Once she had heard the gospel Katie could not remain there. Kroker separates fact from fiction and narrates the gripping story of how she and some of her fellow nuns escaped.
Once Katie arrived in Wittenberg, her life was tied up with the life of Doctor Luther and the lives of the other people with whom she associated there. The author describes the marriage of Martin and Katie and the life they shared in the Black Cloister. Katie managed the household, kept track of the finances, and oversaw the gardens, farm animals, fish pond, and brewing. They raised their children and many foster children. They boarded university students, who ate the food that Katie served them and recorded the words that the Doctor spoke to them (later to be published as Table Talks). They hosted Luther's colleagues, such as Melanchthon, Bugenhagen, and Cranach. Kroker briefly sketches the lives of many of the people Katie served in her vocation to give us a bigger picture of her involvement in the important events that were taking place in Wittenberg.
The reader may notice that Kroker's writing style is different than that of many biographers who write today. His book is well-researched and thorough, but does not seem to be written for scholars. It is written in an engaging way that will appeal to a wide range of readers. Kroker meanders through each topic, and in doing so he covers a great deal of detail along the way. Mark DeGarmeaux's excellent translation both preserves the style of the author and communicates smoothly in English. This edition contains few insignificant typographical errors. The most significant errors I noticed are that on the map of Germany (xii) Wittenberg is misplaced (it is placed further north down the Elbe River, where Wittenberge is located), and that on the timetable (273) the year 1523 is omitted, so that it would appear that Katie left the convent in 1517.
I read The Mother of the Reformation with the members of our book club at church. The first chapter was difficult for some of my fellow readers, especially as Kroker sorted through the possible places of Katie's birth. But as the story became more personal, we enjoyed discussing it together. Along with a map that put Wittenberg in the correct place, I provided reading notes with definitions of words and explanations of names with which they may have been unfamiliar. Early in the book, many terms needed to be explained. As the narrative progressed, few explanations were necessary. (If you are interested in receiving these notes, email me at john.derme@gmail.com.)
We who read the book together enjoyed a portrait not only of Katie, but also of Martin Luther, of the many friends who frequented their home, and of Wittenberg during the life of this remarkable woman. "For him she was the right woman, and he became the complete Luther only after he married her. The mighty Doctor Martinus, whose spirit lives in us, would have needed no Katherine von Bora to become the personality of world history that he is. But the dear Herr Doctor, in whose faithful German spirit we rejoice, is unthinkable without his Katie" (269).
Ernst Kroker (1859-1927) was librarian at the Leipzig city library. He was awarded an honorary doctorate by the University of Leipzig for his work on Reformation history. Mark E. DeGarmeaux is a professor at Bethany Lutheran College. He has translated several works from their original German and Norwegian.
The Mother of the Reformation: The Amazing Life and Story of Katharine Luther, by Ernst Kroker, translated by Mark E. DeGarmeaux. St. Louis: Concordia Publishing House, 2013. 275 pages.