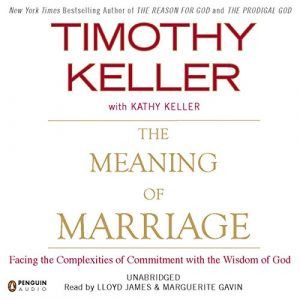 Timothy Keller (along with his wife Kathy) wrote "The Meaning of Marriage" to help married couples and single people understand what marriage is, why our society's view of marriage is often wrong, and how Scripture and Christ's saving love empower married couples to carry out their callings within marriage.  Timothy Keller has a Master of Divinity from Gordon-Conwell Theological Seminary and a Doctor of Ministry from Westminster Theological Seminary. He serves as pastor at Redeemer Presbyterian Church in New York City and is a co-founder of The Gospel Coalition. Kathy Keller received her Master of Arts in Theological Studies at Gordon-Conwell.   
Keller understands very well the total depravity of mankind and how it has impacted people's view of marriage: "If our views of marriage are too romantic and idealistic, we underestimate the influence of sin on human life.  If they are too pessimistic and cynical, we misunderstand marriage's divine origin. If we somehow manage, as our modern culture has, to do both at once, we are doubly burdened by a distorted vision. Yet the trouble is not within the institution of marriage but within ourselves" (p. 40). This was a refreshing theme throughout the book: that the greatest threat to marriage lives inside of us, that is, in our sinful natures.  
Keller identifies the solution to that problem and emphasizes it again and again throughout the book: A correct understanding of the gospel is necessary for people to have a correct understanding of marriage and to carry out the callings God has given them in marriage.  He describes what that gospel is, "The gospel is this: We are more sinful and flawed in ourselves than we ever dared believe, yet at the very same time we are more loved and accepted in Jesus Christ than we ever dared hope" (p. 44). Later, he writes, "Here is why you can say to your spouse who has wronged you, 'I see your sin, but I can cover it with forgiveness, because Jesus saw my sin and covered it'…When Jesus was up there, nailed to the cross, he looked down and saw us, some denying him, some betraying him, and all forsaking him.  He saw our sin and covered it. I do not know of any more powerful resource for granting forgiveness than that" (pp. 187-188). At times, Keller speaks in a way that some could accuse him of making the gospel a "potential" gospel where there is something we do to receive it (pp. 69-70, 77).  Those times are few and far between, and to me it seems at those times he's emphasizing that faith is necessary (not the cause) to receive Christ's forgiveness.    
His ongoing encouragement for all is to continue to feed our faith with that gospel message, to continue to find our worth and identity in Christ and his grace.  Only when that happens are we able to display selfless, forgiving Christ-like love to our spouse. 
One of the most interesting chapters in the book is one that Kathy Keller wrote: Embracing the Other.  In this chapter, Kathy Keller describes the challenges of accepting the unique callings God has given to spouses within marriage.  Yet, she describes the biblical position very well. She spends quite a bit of time describing our Savior's submission to the Father and coming into this world to be a servant.  She stresses that both a husband's and wife's calling within marriage need to start with Christ and his selfless love. With that gospel motivation, she describes how husbands and wives can joyfully carry out their callings.  One application that I thought was especially insightful is the encouragement to carry out our callings regardless of what the spouse is or is not doing: "Since both the headship role of a husband and the submission role as a wife are servant roles, one can always begin to serve without waiting for permission" (p. 216). 
In addition to these points, this book has other wonderful, biblically-sound advice and encouragement not only for marriage but also for those living the single life.  This book provides insightful observations of our current society and the struggles that both married and single people face as they strive to carry out the callings God has given them.    
One area where I found myself disagreeing with Keller was in the area of marrying an unbeliever.  While I agree with his strong warning not to marry an unbeliever, I believe Keller goes too far and says that it is wrong for a Christian to marry an unbeliever (pp. 240-241).  He only describes negative consequences for such an arrangement, but perhaps he forgets Peter's encouragement to wives and how they can win their husbands over through their Christian life and witness (1 Peter 3:1). His warning is well-taken even though I do believe he speaks too strongly.   
Another area where I wished Keller would have emphasized the gospel more is the chapter on sex.  It is an excellent chapter on the beauty of sex and the dangers of misusing God's gift of sex; however, he fails to mention how the gospel should be our main motivation for fighting against temptations of the flesh: "God's law is for times of temptation, when 'body and soul rise in mutiny against their rigour'" (p. 265). Keller's beautiful description of the gospel throughout the book would have been also appreciated in this chapter.  
Even with the above caveats, this book would be a wonderful addition to any pastor's library. Whether a pastor is married or single, this would be a good book to read devotionally. A pastor could certainly use this book as a basis for pre-marriage class or marriage counseling sessions.  It could serve well in a small group study, and the sections on singleness would be appropriate for any teenager or adult who is single. This book exceeded my expectations, and it was refreshing to read a very sound, biblical book from outside our circles.
In a world that devalues and is suspect to marriage, Keller does a wonderful job showing us what marriage is, why marriage is difficult, how the gospel transforms marriages, and how the love of Christ motivates us to carry out the callings God has given in marriage and in our Christian lives on earth.  I strongly recommend this book and invite you to see how you can use it with the people you serve.