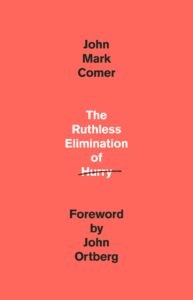 The Ruthless Elimination of Hurry is an ambitious attempt to provide both a diagnosis and a cure. The issue is a serious one, as hurry is presented not as just one problem out of many, but as "the great enemy of spiritual life in our day" (19). If left unchecked, it will destroy your life and your soul. The solution is simple—one must accept the yoke of Jesus. This solution, however, comes at a cost. The one who seeks to slay hurry must pattern their life after Jesus's and practice the appropriate spiritual disciplines.
These are big goals for a little book. (Small pages and wide margins make the page count deceptive.) Yet John Mark Comer balances the high stakes with humility, humor, and a low-key approach. He writes, "Think of this book like you and me meeting up for a cup of Portland coffee… and me downloading everything I've learned over the last few years about how to navigate the treacherous waters of… the 'hypermodern' world" (9).
Keeping this setting in mind will help serve the reader. Without excusing weaknesses in style and theology, this book is not an academic treatise or a sermon. It does, however, make for a good conversation partner. I left that coffee shop, as it were, convinced that hurry is even more dangerous for my personal life, my ministry, and my parishioners than I had realized, even though I was still not exactly sure what to do about it.
This book is at its best in the first stage of the argument—that hurry is a problem which is both particularly dangerous and particularly modern. In "Part One: The Problem," Comer notes that it was not always this way, until "after millennia of slow, gradual acceleration, in recent decades the sheer velocity of our culture has reached an exponential fever pitch" (43). While this may not be a surprise to anyone who has lived through the last twenty years, "hurry sickness" can still sneak up on you, with devastating consequences. Drawing on two decades of experience as a parish pastor, Comer provides a helpful list of symptoms for self-diagnosis, including restlessness, out-of-order priorities, lack of care for your body, escapist behaviors, and more. Left untreated, this sickness may lead to severe burnout, of which Comer relates first-hand experience, or a spiritual life which feels numb and perfunctory.
At this point, a different author might offer up some tips about how to squeeze more productivity out of the day to relieve the pressure of hurry. However well intentioned, this path would fail to acknowledge the inherent limitations of humanity. In a chapter titled "Hint: The Solution Isn't More Time," Comer draws out two insightful truths from the first pages of Genesis. On the one hand, humans were created in the image of God. From there comes our desire and capacity to accomplish, or "rule." On the other hand, Adam was made from the dust. Thus, even before the fall, there was an inherent limit to his rule. Even a perfect human is still only human. In a post-fall world, humanity chafes against these limitations. In a cruel twist of iniquity, we find ourselves either wasting countless hours on bad things or pushing ourselves beyond our limits working on good things. We must heed the warning of the Apostle Paul, who warns, "Be very careful how you walk… making the best use of the time." In this warning, Comer hears a call to recognize our limitations and "slow down and simplify our lives around what really matters" (62).
What does this look like? In "Part Two: The Solution," following Jesus is presented as the antidote to hurry. This healing, though, is not through his blood-bought forgiveness. Instead, Comer writes, "The Western church has lost sight of the fact that the way of Jesus is just that: a way of life…. It's a way of life based on that of Jesus himself. A lifestyle" (84). This, Comer argues, is what Jesus meant by his "yoke" (Matt 11:28-30). The lifestyle of Jesus—unhurried, prayerful, plenty of margin—provides a pattern that functions as a trellis for life, leading to flourishing and allowing one to "work and rest and play and eat and drink and hang out with your friends and run errands and catch up on the news, all out of a place of deep, loving enjoyment of the Father's company" (95).
At this point it should be clear that our conversation partner, while a pastor, has a theology that diverges from confessional Lutheranism. This is no minor flaw—the complete lack of mention of Jesus's atonement for sin or imputed righteousness robs readers of their true Sabbath rest. Treating God's commands to rest as being ultimately life-giving confuses law and gospel. Reading the gospels as self-help biographies (104) rips the beating heart out of God's Word.
That said, it is to the book's advantage that Comer is largely undogmatic in his application of Jesus-as-life-template. In "Part Three: Four Practices for Unhurrying Your Life," each practice is tied to the life of Jesus, albeit tenuously. All the same, and with appropriate caveats, there are many helpful insights for living a thoughtful, less hurried life.
"Silence and Solitude" is a call for a Christian version of daily mindfulness centered on prayer and the Word of God.
"Sabbath" is more than a day off. It is a weekly 24-hour period of rest, enjoyment, and time in God's Word. Comer provides an attractive personal example of the joy and rest his family finds in a Christian version of this practice (173-5).
"Simplicity" is a challenge to take to heart Jesus's many warnings against possessions and greed, but instead to find contentment in God's promises and presence.
"Slowing" is an invitation to intentionally slow down the pace of life. Twenty potential examples are shared to give the reader some ideas for how to "fast" from hurry.
Each of these practices is illuminated by personal anecdotes, Scripture, and thought-provoking quotations. Helpful suggestions for each are offered, despite the perhaps inevitable weakness of being overly specific to the author's experience. The quotations, both here and elsewhere in the book, are a highlight. They come fast and furious from a wide variety of sources. In one three-page stretch, we hear from Carl Jung, the Apostle Paul, a university business school study, a Japanese theologian named Kosuke Koyama, and more.
The book is refreshingly realistic in its conclusion. "There's no silver bullet, no killer app, no unisize formula" (252). There will be no perfect rest from the burdens of life on this side of heaven. Yet that did not stop the Apostle Paul from urging us to "make it your ambition to lead a quiet life" (1 Thess 4:12).  
The Ruthless Elimination of Hurry increased that ambition in me. This is a conversation worth having.