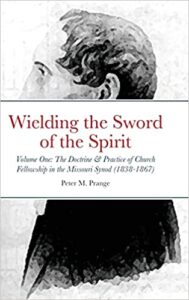 Peter M. Prange serves as an associate pastor at New Life Ev. Lutheran Church in Kenosha and Somers, WI. He is a 1998 graduate of Wisconsin Lutheran Seminary. He has researched and written extensively on the history and doctrine of the Synodical Conference, with a special emphasis on the connection between C.F.W. Walther's theology and practice and the so-called Wauwatosa Theology that was the hallmark of the Wisconsin Synod's Wauwatosa seminary from 1900-1920. He is the author of "The Wauwatosa Spring: The Flowering of the Historical Disciplines at Wisconsin Lutheran Seminary (1900-1920)" and co-author of Jars of Clay: A History of Wisconsin Lutheran Seminary (1863-2013).
When one studies the vast span of church history, the temptation is very real to identify individuals or groups as simply good or bad, sinners or saints based on our own theological and historical perspective. We often see figures simply from the perspective of what major or minor, positive or negative contribution they made to the life and history of Christian church.
Yet in doing so, we often fail to recognize that they are saints and sinners shaped uniquely by their Creator. They are complex individuals whose life experiences, family backgrounds, historical and cultural settings, and theological training, the Lord used to shape who they turned out to be. For example, how do we view an Athanasius or an Arius, a Martin Luther or an Ulrich Zwingli, a Samuel Schmucker or a C.F.W. Walther, a Billy Graham or a Daniel Deutschlander? What made them tick? What life experiences or past historical events, even generations before, shaped who they turned out to be? We often focus so much on the obvious that we fail to pay attention to what made them them. In doing so, we end up missing the Lord's subtle guidance of the history of his Church and the amazing grace he showers on sinners like us.
As American Lutherans, we are tempted to fall into that trap when it comes to the history of how confessional Lutheranism came to our shores. A basic study of American Lutheran church history will bring up familiar personalities and events like C.F.W. Walther—dubbed "The American Luther"—and the Saxon Lutherans who immigrated with him to Missouri or Wilhelm Loehe and his sponsorship of mission work in Michigan and Indiana and beyond all from his Bavarian home or J.A.A. Grabau and his often heavy-handed ways with the Buffalo Synod. We learn of church bodies like the General Synod, the General Council, the Norwegian Synod, the Iowa Synod, and the members of our own Evangelical Lutheran Synodical Conference of North America. We learn of our own founders like the mission-minded, yet confessionally compromising Johannes Muehlhaeuser or Johannes Bading, who guided the Wisconsin Synod to take a confessional stance while paving the way for how we train public ministers. We know them, but do we truly know them?
I would argue that in Wielding the Sword of the Spirit, Volume One: The Doctrine & Practice of Church Fellowship in the Missouri Synod (1838-1867), Peter Prange does exactly that. In this first volume of a two-volume set, Prange provides an insightful account about confessional Lutheranism's early blossoming in America under the leadership of C.F.W. Walther and other German Lutheran immigrants as they came to America in the mid-19th century. Utilizing a wealth of sources, Prange ably demonstrates how the doctrine and application of church fellowship, whether carried out faithfully to the Word of God or straying from that Word, played an integral role during this period of American Lutheranism. Prange provides help to the reader new to American Lutheran history by providing explanations for German theological terms and providing "Cases in Point" at the end of each chapter to provide a specific concrete example of how the broad events discussed in that chapter impacted real individuals and their congregations.
Yet this volume does much more than merely lay out the broad history of these early decades. Prange makes the historical figures and the groups that followed them come alive as both sinners and saints. Walther, Wilhelm Loehe, J.A.A. Grabau, and many others become living, breathing people for the reader with very real faults and very real gifts of God's grace. In doing so, we see our Lutheran forefathers for who they really were and how God used them to get us where we are today. One cannot help being shocked at the breathtakingly loveless choices or comments by people from both sides. Yet you will be no less shocked by the breathtaking grace of God as he worked through undeserving sinners to plant a confessionally faithful church on American soil.
Prange does an excellent job demonstrating the developments and consequences of movements among the various Lutheran groups towards greater unity or splitting farther apart as time made it clear that unity could not happen. He also helpfully lays out to the reader the decisions of the various personalities involved, whether they were well-thought and loving or responding with a snap judgment to what was perceived as a personal insult. Prange provides good analysis of these various developments for the reader in a scholarly, yet accessible manner in order to provide as complete a picture as possible.
I was impressed by how even-handed Prange was in his analysis. As a WELS author, one would expect him to skew that way, but he pulls no punches, giving fair and sometimes uncomfortable depictions of these early American Lutherans, including Walther himself, whose role in getting the Saxons to America is uncomfortable to say the least (Chapter 1). At the same time, those who prefer a more progressive view of American Lutheran history or those who take issue with Walther, or the church bodies that would later form the Synodical Conference may disagree with Prange's conclusions. Nevertheless, Prange demonstrates evident scholarship and gives the reader ample opportunity to dig further through his excellent footnotes and twelve pages of bibliography.
Of course, as with any book short of Scripture, Wielding the Sword of the Spirit is not perfection on earth. In this volume, the author has a tendency to overuse some variation of the phrase "Wielding the sword of the Spirit," especially in the early chapters of the book. While the use of that phrase makes sense in certain contexts, it need not be overused.
The reader will also discover that for understandable reasons, Prange has to lean heavily on secondary sources as the basis for this book. That is an understandable challenge due to the lack of primary sources available. Nevertheless, this book does synthesize all available sources in a manner that conveys as clear and complete a picture as possible. If nothing else, what Prange has accomplished in this volume is to weave together the different threads of a wide variety of histories and accounts into a full, rich tapestry that offers the reader one of the most complete pictures of this era available in American Lutheran scholarship today.
For students of church history and those who simply want to know how we got here, Wielding the Sword of the Spirit is an accessible and valuable contribution to the corpus of work on the development of confessional Lutheranism in America. Lutherans across the spectrum will appreciate Prange's efforts to provide a balanced picture of this crucial tri-decade of American Lutheranism—arguably one of the most impactful periods in American Lutheranism. This book is definitely worth reading and worth a place on your shelf or the shelf of your church library. I look forward to what Prange will share with us in Volume 2.