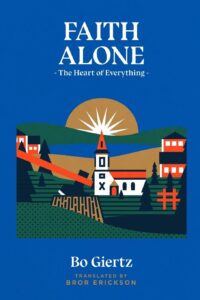 Bo Giertz (1905-1998) was a pastor and bishop of the Lutheran diocese of Gothenburg, Sweden. A powerful preacher and teacher of the gospel, Giertz is considered to be the "C.S. Lewis of Sweden," having gone, by God's grace, from atheism to confessional Lutheranism. He was a vocal defender of Holy Scripture as liberalism swept through the Church of Sweden. He is most well-known among English speakers for his novel, The Hammer of God. However, many of his writings remained in the Swedish language until the recent translation efforts of Hans Andrae and Bror Erickson.
Bror Erickson serves as the pastor of Zion Evangelical Lutheran Church in Farmington, NM. He graduated from Concordia Theological Seminary in 2004. He has translated numerous books and articles by Bo Giertz and has contributed significantly to the scholarship surrounding Giertz.
Novels are not the typical fare here at the Shepherd's Study, but this historical novel by Bo Giertz is worth the exception. Yet before we can dig into Faith Alone, we need to see its relation to Giertz's more famous novel, The Hammer of God.
The writings of Bo Giertz were largely unknown to English speaking audiences until Clifford Ansgar Nelson's translation of The Hammer of God was first published in 1960. Hammer of God was an instant bestseller in Sweden in 1941. Today it is considered a classic novel of faith in Christ and the power of God's grace, especially for those who serve in public ministry, and, therefore, recommended reading for Lutheran pastors of every age. Hammer of God is actually a collection of three novellas set during the parish ministry of three pastors serving the same parish in southern Sweden during three different eras of Sweden's history—1808–10, 1878–80, and 1938–40.
What was the draw for a historical novel set in a nineteenth and twentieth century Swedish Lutheran parish? The cover description from the 2005 revised and expanded edition[1] explains it this way: "The Hammer of God reads like a good detective story, immersing the reader in the unfolding events that present a spiritual drama of death and life, of despair and hope, of upheaval and peace, of sin and grace. Faith comes down to a matter of relying either on our own accomplishments to be right with God or on receiving as a free gift by grace the righteousness Christ gained for us." As the reader will find, that same theme lies at the heart of Faith Alone: The Heart of Everything.
So how does Faith Alone relate to The Hammer of God, and why should you spend the time and effort to read it? Faith Alone is meant to be a prequel to The Hammer of God set in the same region of southern Sweden during the years 1540–43. This was a time of great upheaval in Sweden. Gustav Vasa had led a war of independence against the Danes in the 1520s, at the same time that the Lutheran Reformation was making inroads into Swedish church life via Germany and Denmark. While Vasa struggled to consolidate his power among a very independent people, including reforming the churches from the top down, the changes that the Reformation brought were deeply troubling to many who had been raised Roman Catholic. Mark Granquist, who wrote a helpful and informative historical introduction to the novel, describes the setting in this way:
This was a traumatic and chaotic period, and the lives of many Swedes were deeply disrupted by these religious changes.… Not only did these changes threaten the stability of their faith and the persistence of their religious practices, many also resented the intrusion of royal power into their own local religious communities. To be sure, the events of 1523 to 1543 were deeply disruptive and divisive, as individuals and local communities struggled to make sense of the new evangelical practices and teachings. Certainly, in many areas, the change-over to the new evangelical system took time and was slow to make its way into the hearts and minds of individuals. But the new teachings also brought with them a new hope and a new and liberating way of understanding the grace of God. (xiii-xiv)
This is a good reminder for those who study church history. We sometimes fail to realize how tumultuous events and movements like the Reformation were not only for kingdoms, churches, and political figures, but also for untold individual souls and congregations.
Into this political and religious turmoil steps the reader, who is introduced to two brothers, Anders and Martin Ragvaldsson. Both had studied to become priests before their paths diverged—Anders to service as a local parish priest near their boyhood home and Martin to service as an official in the government of King Gustav. With civil war raging around them and spiritual war raging within their own hearts, Giertz deftly weaves the stories of the two brothers into an impressive account of the devastating impact of self-righteousness and the life-changing, soul-healing power of God's grace through faith in Christ alone, which alone makes us righteous.
Those who have read The Hammer of God should understand that Faith Alone is not the novellas of The Hammer of God. Faith Alone is a full-length, standalone, historical novel that takes the reader from peace to the deadly violence of war to the consequences of that violence, and from abundance to desperation to a restoration of hope and peace in Christ, even in the direst of situations. Admittedly, that did catch this reviewer off-guard, but it was well worth the read. Giertz paints a gritty, realistic picture of life and ministry in these times. There is no sappy, formulaic "happily ever after" ending. Yet the ending to this book may bring the modern reader to tears of joy at God's grace in Christ for every sinner.
What struck this reviewer most is how Giertz ably and beautifully weaves so many key confessional Lutheran doctrines into the story, while never detracting from the story. Through the experience of Anders and Martin, Giertz warns of the two extremes of self-righteousness—trying to find one's righteousness in one's papal piety or in one's spirituality. Yet through an unimpressive parish pastor named Peder of Vi, Giertz gives voice to the beauty of justification by faith in Christ and his righteousness alone. He speaks of the beauty of our unique vocations in the home, in the church, and in society, and the blessings and challenges that come through the two kingdoms of church and state. Finally, he emphasizes the importance of the means of grace as the goods of the gospel are handed out to needy souls in the Church, even to those who think they are self-righteous. Faith Alone is rich in gospel goodness even as it demonstrates the empty wasteland of our attempts to put our self-righteous works between us and God.
While Giertz proves himself to be a writer par excellence, Bror Erickson's translation makes Faith Alone both accessible and engaging. Erickson's work in bringing the writings of Bo Giertz to English language audiences is truly a labor of love and a blessing for Christ's church today. Faith Alone and many other English translations of Bo Giertz's writings are strongly recommended for your reading. As others have said, "Giertz deserves to be discovered among us."[2]
[1] Oddly enough, previous editions of the English translation failed to include the ninth chapter—"In the Place of Sinners"—a chapter rich with gospel resolution to the story and added for the first time in 2005. For hopefully obvious reasons, that expanded edition is well worth the purchase price and time to be read and re-read by pastors of every age.