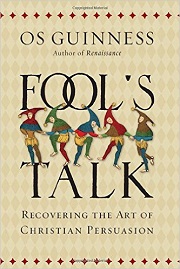 What role does apologetics play within Christianity? Does apologetics diminish the work of the Holy Spirit and the power of the gospel? What should our goals be when we make use of apologetics? Os Guinness in Fool's Talk discusses these questions and many more in an attempt to lead all Christians to see the value and importance of apologetics.
In his introduction Guinness clearly states the purpose of this book is not to give Christians a "how-to" guide on apologetics, but rather he writes, "This book focuses on a narrower issue and a simple problem: We have lost the art of Christian persuasion and we must recover it" (17).  That's what he does throughout the book: he shows the need and the value of all Christians being ready to defend the Christian faith and make the case for it to the unbelieving world.
The main approach Guinness suggests is something he calls "turning the tables." He encourages Christians to have meaningful conversations with the people in their lives, ask questions about what they believe, and in Christian love talk to them about inconsistencies in their worldview.  He doesn't suggest that Christians do this to win an argument, but rather create an opportunity to share the gospel with people who in turn might be more open to hearing what the Christian faith is all about.
Along the way he gives some key reminders for Christians, such as, remembering the goal is to move from apologetics to evangelism; not insisting on winning the argument; carrying out conversations in Christian humility, and even humor; and being able to answer some of the "inconsistencies" of the Christian faith which an unbeliever might bring up.
Guinness is certainly well-read and qualified as an apologist (it seems as if he is quoting some philosopher, historian, theologian, or apologist on every page!). His main points throughout the book are solid food for thought. He does not fall into a full-blown decision theology, and at times suggests that the Lord is the one who converts the heart. For example, when talking about a Christian convert, he writes: "She knows that she has not so much found God as that God has found her. All the time the seeker thought she was seeking, but actually she was being sought, for God can only be known with the help of God. 'The hound of heaven,' as the poet Francis Thompson called God, has tracked the seeker down" (249). His understanding of the gospel and the purpose of outreach are clear and refreshing. He believes that it's the proclamation of the gospel, not apologetics itself, that will bring someone to faith. He backs up his main points with Scripture and shows how the prophet Nathan (2 Samuel 12), the Apostle Paul (Acts 17:16-34, 2 Corinthians 10:5), and the Apostle Peter (1 Peter 3:15) made use of reason to defend the Christian faith and to create an opportunity to share the Christian faith. Guinness's approach is well-balanced and easy to apprehend.
For some, one disappointment might be that Fool's Talk is certainly not a "how-to" guide on answering every scenario or objection a Christian might come across. Guinness never intends it to be, partly because he's making the case for the need of apologetics in a Christian's life and because he repeatedly makes it clear that apologetics is more art than science. There is not a one-size fits all approach. While he does talk about different approaches, he's careful not to be too specific about what to say. Every individual is different and might come to the table with different questions or levels of skepticism about Christianity. Guinness does make it clear that in order to defend the Christian faith (and then hopefully, share the Christian faith), one needs not extensive training but a willingness to go out, love, and talk to people about their beliefs. That being said, at times Fool's Talk feels more scholarly than practical.
If a pastor is looking for help with a specific situation or topic, other books on apologetics would be more useful (cf. Mark Paustian's book, Prepared to Answer, for example). Guiness's book certainly would have value for the pastor teaching an evangelism class and wanting to use apologetics as a pre-evangelism tool, which could lead to an opportunity to talk about Jesus. Perhaps, this book would be most valuable for the pastor who believes that apologetics should have little or no role in our lives as witnesses for Christ. Ultimately though, our greatest tool remains the revealed wisdom and Word of God in which the Spirit is unleashed, as Paul wrote: "We demolish arguments and every pretension that sets itself up against the knowledge of God, and we take captive every thought to make it obedient to Christ" (2 Corinthians 10:5).